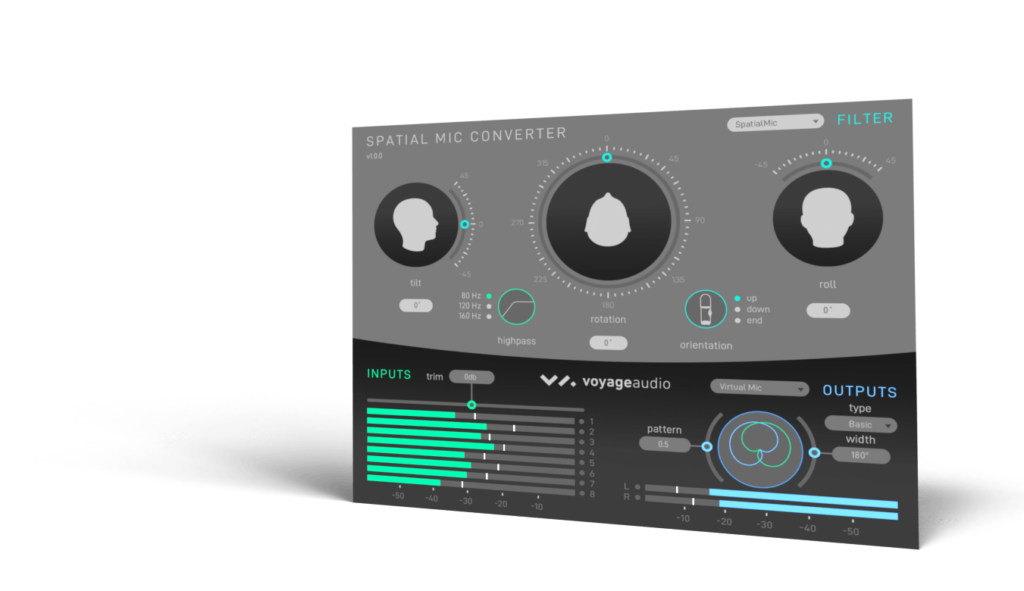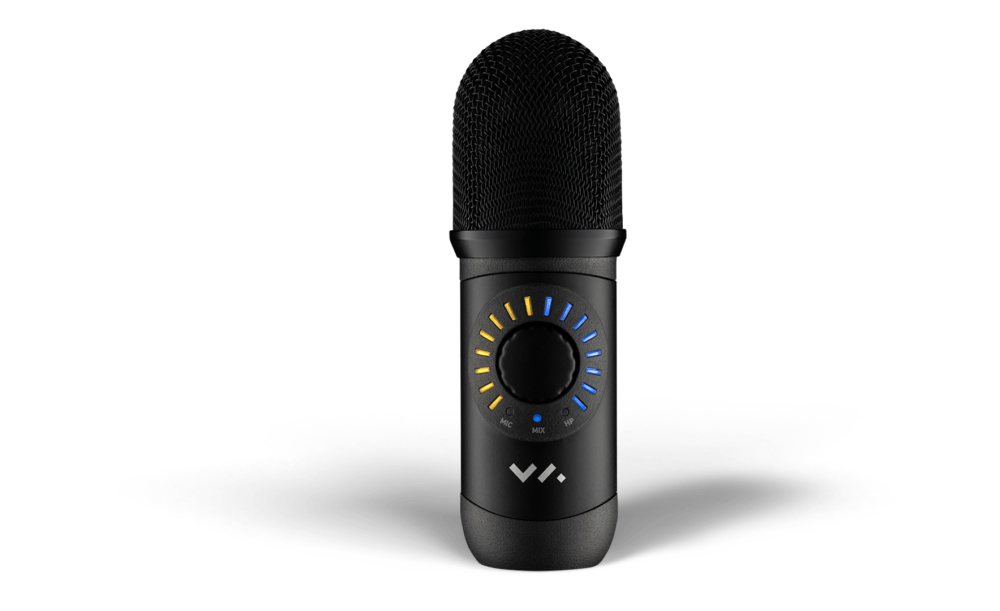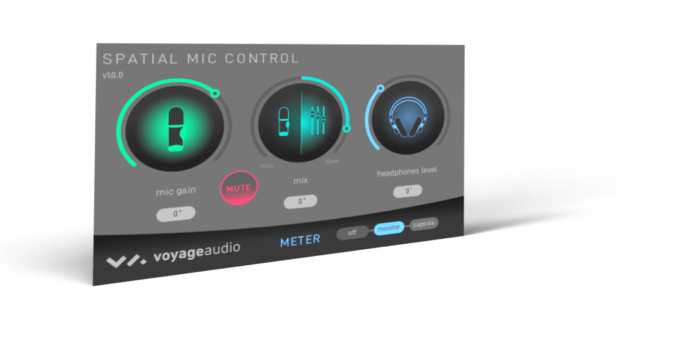 Spatial Mic
360° Recording System
Buy Now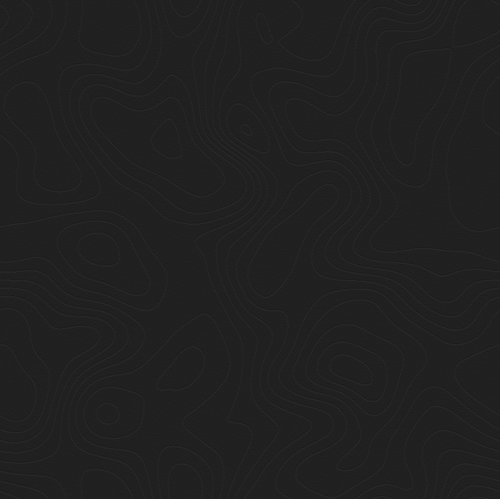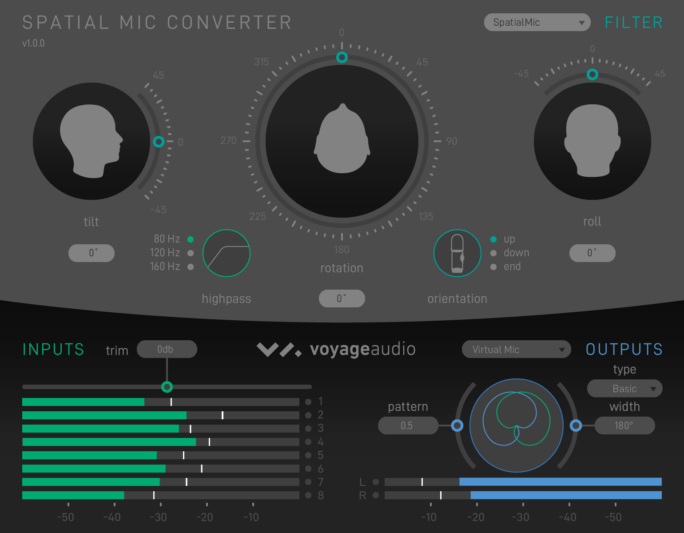 Spatial Mic Converter Plugin
The Spatial Mic Converter plugin transforms the raw audio signals from Spatial Mic to Virtual Mics and first or second order ambisonics in AmbiX or Fuma formats. To accomplish this, Spatial Mic Converter uses an internal 64-channel filter matrix and measurements from an anechoic chamber.

Spatial Mic Converter offers the capability to change the microphone's aim at the point in space where the audio was recorded. This is useful when aligning audio position with 360 video, or aiming the mic at a specific sound that should be in front of the listener.

The Virtual Mic can output several different types of higher order patterns that go far beyond classic Omni → Cardioid → Figure-8. Learn More about polar patterns
Spatial Mic Control App
The Spatial Mic Control app provides remote manipulation of various hardware parameters on Spatial Mic. Spatial Mic Control communicates with the microphone through the same USB cable used to supply power and stream audio data. Spatial Mic Control replicates the hardware controls found on Spatial Mic itself and adds additional functionality.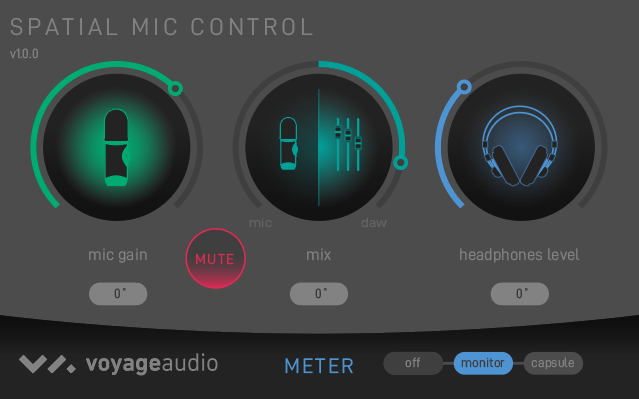 If your 360° video requires immersive head-tracked audio, Spatial Mic is here to help. Spatial Mic records in 360 degrees, allowing the sound your viewer hears to change as they move and look around in a Virtual Reality or 360° video. Learn More About Field Recording in 360° VR
Spatial Mic records & streams audio for live events, games, film, YouTube 360 and Facebook 360 with a compatible plugin host like Reaper, Pro Tools Ultimate or Nuendo. Listen to and download a live Dreamers' Circus concert recording session
360° VR Field Recording
Live Sound Capture
Studio Recording
Plug Spatial Mic into your computer via USB or use the built-in ADAT connectivity with a compatible audio interface. Place Spatial Mic wherever you would normally use a Stereo X/Y, Blumlein or other multi-mic setup and then experiment from there. Listen to & download studio recordings created with Spatial Mic
Decode To Any Format
Use the included Spatial Mic Converter Plugin to decode classic (Omni → Cardioid → Figure-8) and advanced (Basic, InPhase, MaxRe) higher order polar patterns. Aim these in any direction and hone on one specific sound in 360°. Learn About Polar Patterns With Spatial Mic
Sound FX & Design
Test & Measurement
Capture immersive sound effects that can be decoded to 5.1, 7.1, ATMOS (requires 3rd pary tools) and more. Easily record on-the-go to a mobile device and build your library. Learn How Lenny Jones (Ancient Aliens, Curse of Oak Island, Unsolved Mysteries) uses Spatial Mic
Use Spatial Mic to record & playback Impulse Responses in an acoustic space, view hotspots and sound reflections or explore new ways to interact with sound. Leverage the simplified calibrated workflow of Spatial Mic so you can concentrate on the data.
360° Creativity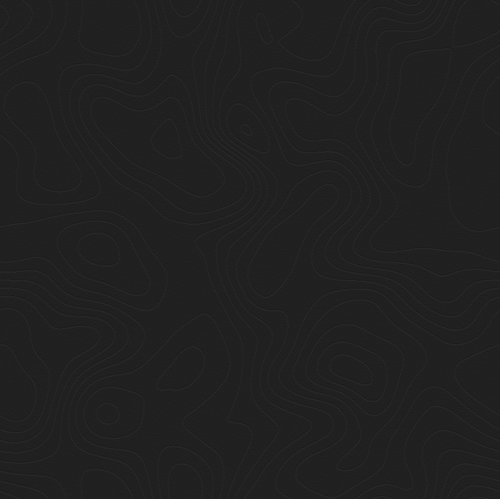 "You'll find it performs as well or better than any other options that are significantly more expensive...This thing is great."
Christian Cummings, President
Dynamic Rangers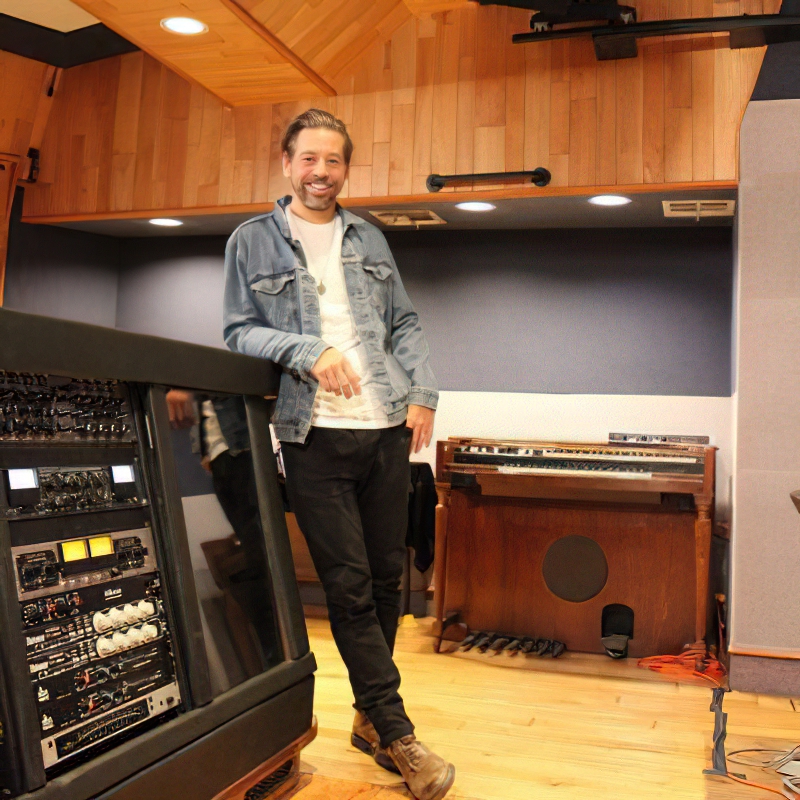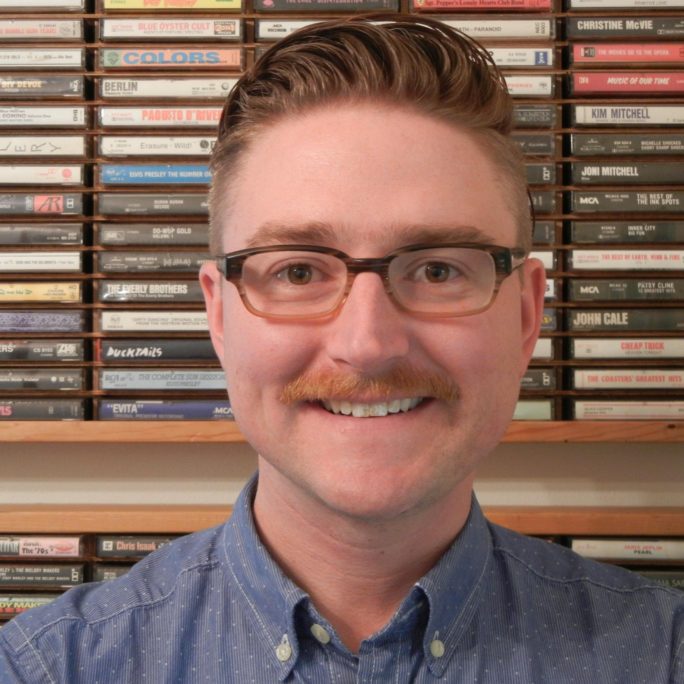 Craig Eley, Founder
Field Noise
"If you have worked with ambisonics, you'll be impressed by the depth and separation in the ambisonic field, and if you haven't, well, this is a great place to start."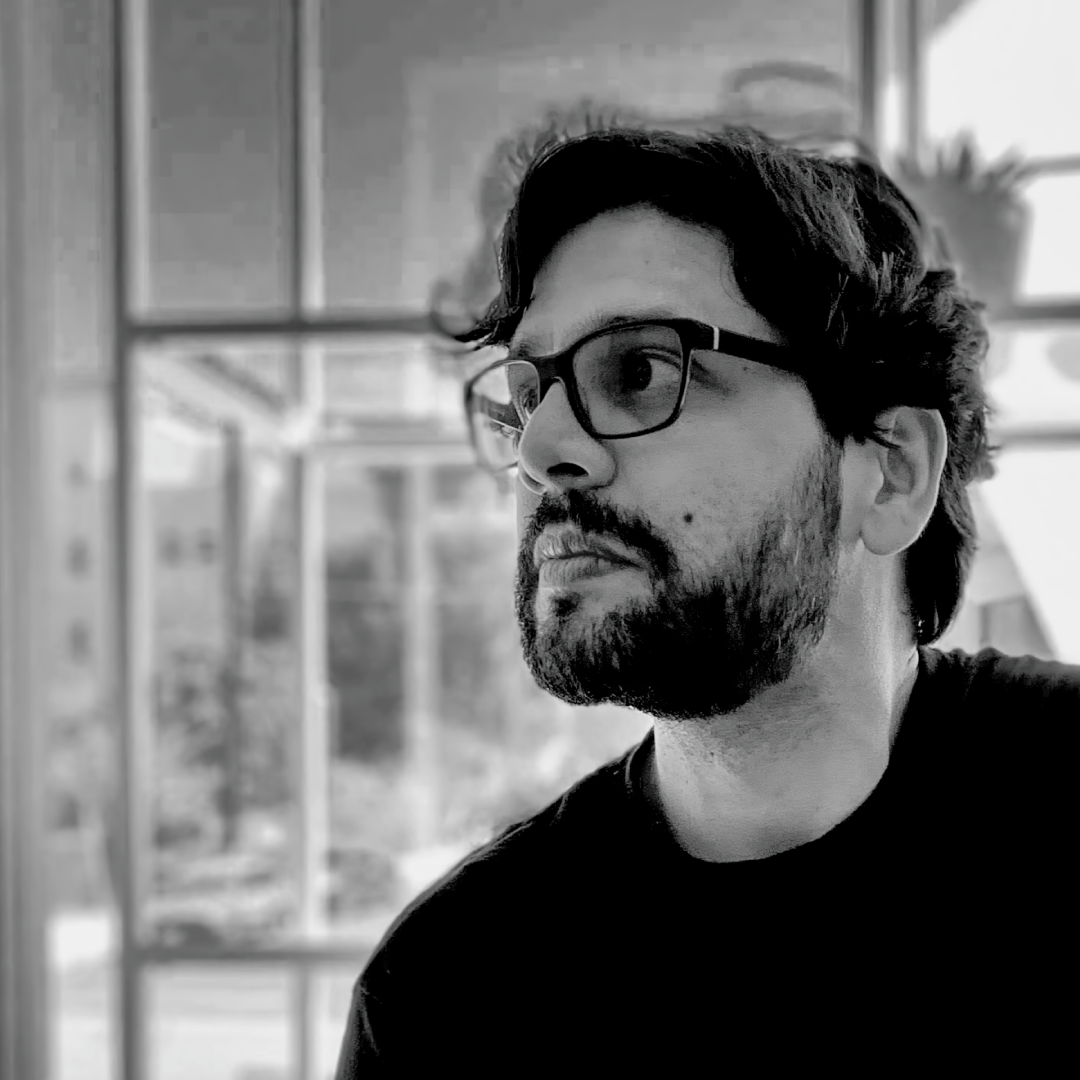 Eduardo Patricio, Ph. D.
Sound Designer
"The virtual mics are game-changing powerful tools. Sweet access to 3D sound from a single mic recording! "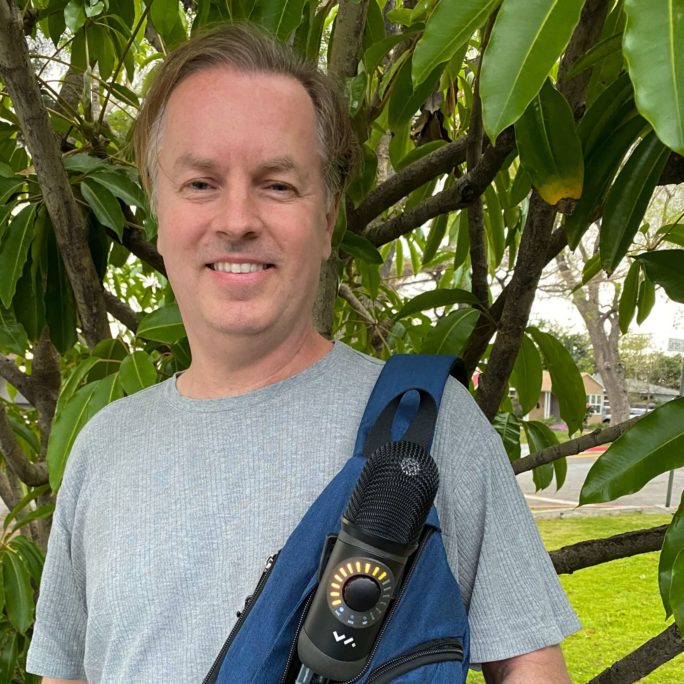 Lenny Jones, Founder
24/96 Sound Effects
"No XLR cables, preamps or breakout boxes. It reduces my rig by 50%, and I love that. Also the mic's small size makes it perfect for smaller recording rigs."
Setup & Record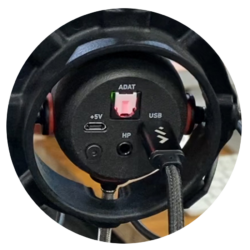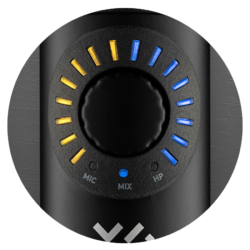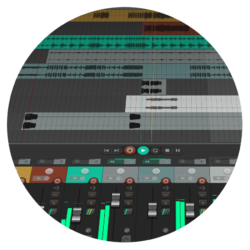 Connect via USB to a compatible USB Audio 2.0 Host device or plug ADAT into an audio interface for multi-mic setup.
Adjust analog front-end mic gain, headphone level, metering and more with the anodized aluminum knob. Remotely control these features and more with Spatial Mic Control app (OSX & Windows).
Record 8 calibrated channels from the capsule array into a computer or mobile device. Monitor signal levels on the Spatial Mic LED display or in your DAW.
Deliver recordings to stereo, 5.1, 7.1, Ambisonics or any format you desire (3rd party tools may be required). Upload to YouTube 360, Facebook 360, Oculus and more and experience immersive head-tracked spatial audio.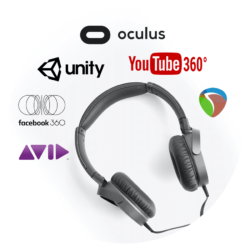 Use the Spatial Mic Converter plugin to adjust aim, orientation, filter type and more. The output stage decodes to ambiX, FuMa or stereo virtual microphone patterns with higher-order options.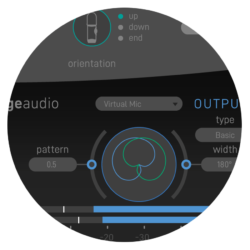 Transform the raw capsule output from the mic with the Spatial Mic Converter plugin (VST3 64-bit & AAX) in a DAW that supports multi-channel audio tracks like Reaper, Pro Tools Ultimate or Nuendo.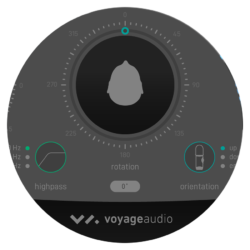 Mix & Deliver
Listen & Download Sound Samples
Connect
Adjust
Record
Convert
Plugin
Deliver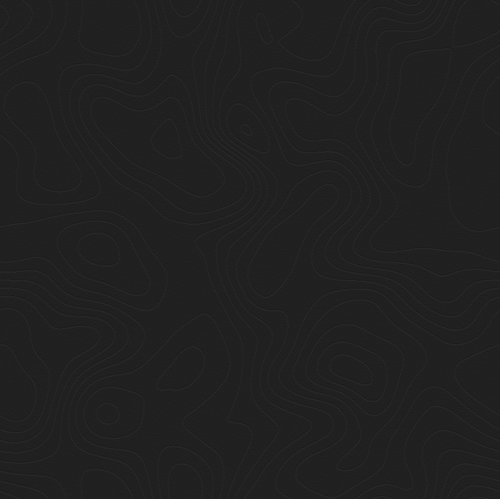 Join our spatial audio community today!
Where To Buy









Spatial Mic
Both a USB C to C and a USB C to A cable, 3 meter, black nylon braided
¼-20 to ⅝'' mini swivel ball hard-mount
Foam windshield
Quick-start guide
For Download: Spatial Mic Converter plugin VST (Mac OSX & Windows) and AAX (Mac OSX)
For Download: Spatial Mic Control standalone app (Mac OSX & Windows)
For Download: User Manual
Electrical
8 Channels Streaming to USB 2.0 Audio Host via USB-C Connector / 2 Channels Streaming Playback
8 Channels ADAT Lightpipe Digital Output
USB Streaming and ADAT may be used independently or concurrently
Sample Rates USB: 44.1kHz, 48kHz, 88.2kHz and 96kHz
Sample Rates ADAT: 44.1kHz and 48kHz
ADC 110dB SNR per channel, DAC 108dB SNR
Bit Depth: 16/24-bit
ADC clipping in pad mode: 131dB SPL
USB bus powered via USB-C or external 5v source via micro-USB
Headphone output: 130mW into 16 ohms via 3.5mm TRS jack
Live binaural monitoring using Google Resonance HRTFs  (44.1kHz and 48kHz) and live Mid-Side monitoring (88.2kHz and 96kHz)
Spatial Mic Converter plugin DSP filter type: 64-element frequency dependent output filter matrix
Individual calibration stored in each Mic for balanced array.
Capsule & Array
14mm Prepolarized Condenser
SNR: > 72dB-A
Frequency Response: 20Hz to 20kHz
Max SPL for THD<3%: 120dB @1kHz
Array: 8 transducers1
Array Ordering: Looking at Spatial Mic from the front, as indicated by the knob, Capsule 1 is on the lower right (Roman numeral 'I'). Capsule 5 is on the top ring of the capsule array and inline with microphone knob. The bottom ring contains capsule 1-4 and the top ring contains capsule 5-8.
Mechanical
Construction: Aluminum & Nylon
Spatial Mic Dimensions: Height: 6.75'' Diameter: 2.125''
Spatial Mic Weight: 0.54 lbs
System Requirements
Host device supporting multi-channel USB Audio 2.0 or ADAT lightpipe input
USB bus power via USB-C jack or external 5v / 500mA source via micro-USB
DAW supporting multi-channel audio tracks like Reaper, Pro Tools Ultimate or Nuendo
Spatial Mic Converter plugin and Spatial Mic Control app have been tested to work on Mac OSX 10.11 and higher or Windows 10. Plugin and Control app are available for download to test system.