Spatial Mic — Second Order Ambisonics Microphone With Digital Connectivity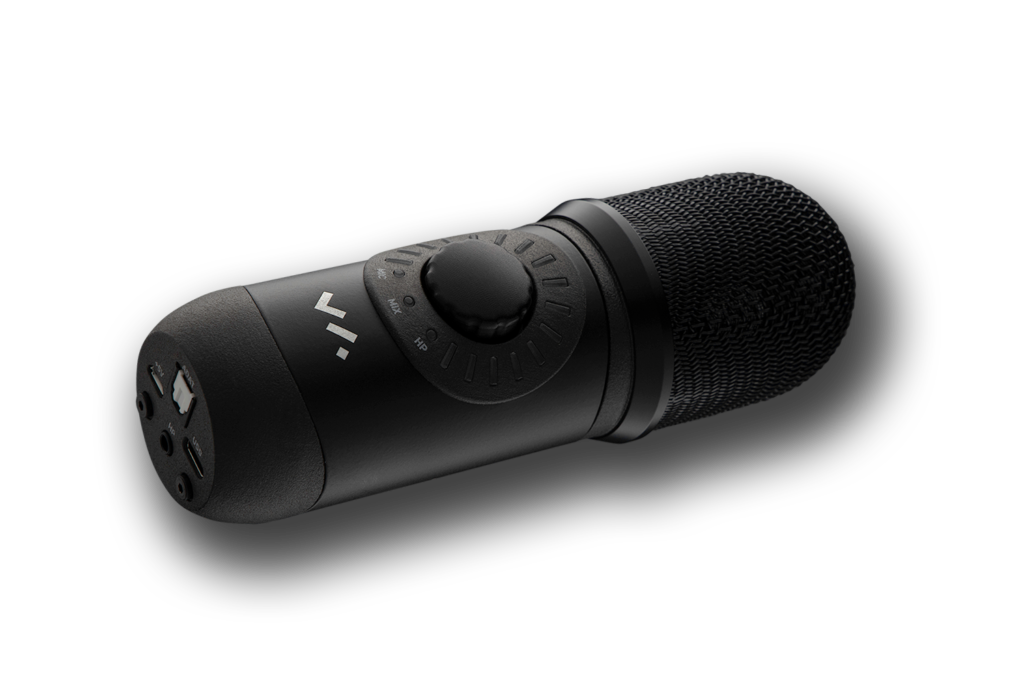 Voyage Audio is proud to introduce Spatial Mic — a professional second-order ambisonics VR microphone capable of single wire connectivity to a computer or mobile device. The microphone is available for purchase directly from Voyage Audio.
Spatial Mic records the entire sound-field with precision. Signals from 8 capsules, encoded with the Spatial Mic Converter plugin (included) result in second order ambisonics audio. This allows for stunning spatial resolution, engaging listeners as immersive sound moves around their heads.

Designed for audio engineers, producers for AR/VR, game sound-designers and 3D audio pioneers, Spatial Mic is a next generation 360 microphone. Spatial Mic and the included Spatial Mic Converter plugin (VST and AAX) offer substantial improvements over existing solutions:
Enhanced spatial resolution, pattern decoding, directivity & optimal listening area vs first order microphones and less phase issues than with spaced arrays.

Future-proof output — may be decoded to any listening format live or in post and is not locked to one specific configuration like 2-channel binaural microphones.

Output may be head-tracked and used natively with content delivery tools from

YouTube

,

Facebook

and

Google Resonance SDK

.
Streamlining the recording workflow when dealing with multi-channel microphone arrays was a top priority during the development of Spatial Mic. With built-in USB and ADAT connectivity, no external mic preamps, multi-channel cables carrying analog signals or converters are needed. Along with purity of signal, an individual calibration profile stored within each mic ensure consistent quality.
Spatial Mic allows audio engineers, producers for AR/VR, game sound-designers and 3D audio pioneers to record and mix with an 8 capsule array, USB & ADAT light-pipe streaming, live binaural monitoring and a dedicated DAW plugin.
Spatial Mic Key Features
8 x 14mm capsule array for Second Order Ambisonics

8 x Multi-stage, digitally controlled analog capsule front ends

Live binaural monitoring using Google Resonance HRTFs

USB Streaming and ADAT Light-Pipe can be used independently or concurrently

Individual calibration stored in each mic

USB bus powered via USB-C or external 5v source via micro-USB

Bit Depth: 16/24-bit

Sample Rates USB: 44.1kHz, 48kHz, 88.2kHz and 96kHz
Sample Rates ADAT: 44.1kHz and 48kHz
ADC clipping in pad mode: 131dB SPL

16-core processor and high resolution SiLabs clocking scheme

Includes Spatial Mic Converter DAW plugin for raw capsule output conversion (VST, AAX, macOS and Windows 10)

Includes Spatial Mic Control app, allowing for remote operation of all hardware controls and more (macOS and Windows 10)

High quality construction with aluminum and nylon parts, combined with a bright LED display, knob and metal headbasket

Included accessories: 3 meter USB C to C cable and USB C to A cable, metal mini swivel ball hard-mount, foam windscreen and quick-start guide

Made in USA with domestic and foreign components

Designed to fit the Rycote InVision shockmount (sold separately)
Spatial Mic Converter Plugin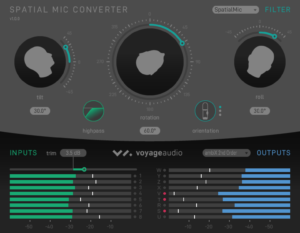 The included Spatial Mic Converter plugin transforms the raw audio signals from Spatial Mic to first or second order ambisonics in AmbiX or Fuma formats. To accomplish this, Spatial Mic Converter uses an internal 64-channel output filter matrix. The two included filters (selectable) are built using measurements from an anechoic chamber and proprietary processing.  The Spatial Mic Converter plugin will only work with Voyage Audio's Spatial Mic, however a custom 64 channel .wav may be loaded into the plugin for users interested in filter experimentation or individual mic characterization.
Spatial Mic Converter offers the capability to change the microphone's aim at the point in space where the audio was recorded. This is useful when aligning audio position with 360 video, or aiming the mic at a specific sound that should be in front of the listener.
The audio output from Spatial Mic Converter can be first or second order ambisonics in AmbiX or Fuma. Audio can then be sent to a variety of plugins from Facebook 360, SSA, Blue Ripple Sound and others for further processing.
Spatial Mic Converter Plugin Key Features
Encodes raw audio from Spatial Mic to first or second order ambisonics in AmbiX or Fuma formats

64-element frequency independent output filter matrix

2 types of output filters — created using measurements from an anechoic chamber

Change Spatial Mic's aim and orientation live or after recording

High pass filter, gain trim and comprehensive level metering
Spatial Mic Control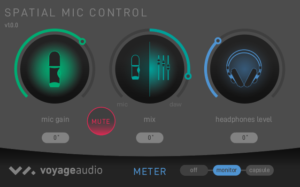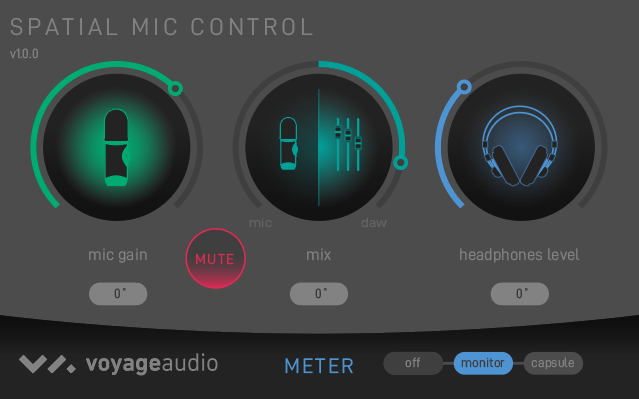 The included Spatial Mic Control app provides remote manipulation of various hardware parameters on Spatial Mic. Spatial Mic Control communicates with the microphone through the same USB cable used to supply power and stream audio data. Spatial Mic Control replicates the hardware controls found on Spatial Mic itself and adds additional functionality.
With a myriad of features, Spatial Mic and it's accompanying software bring unique tools to any type of audio production. For more details and to purchase Spatial Mic, head over to the Voyage Audio online shop. We hope you are as excited as we are to explore the creative possibilities recording with a second order ambisonics microphone allows.