Voyage Audio was proud to introduce Spatial Mic at the 2020 NAMM show in Anaheim California where it was selected by multiple media outlets as Best Of NAMM 2020. If you were able to stop by our booth, we would like to sincerely thank you for taking the time to talk, listen and learn about Spatial Mic. If you missed the fun or want more, not to worry — you can check out the photo gallery above, download the listening session we presented at the show and check out the NAMM 2020 In 360 Video below that was recorded over the course of the 5 days!
Media Preview Day
Immersive spatial audio did not go unnoticed at the 2020 NAMM show. Voyage Audio started things off with an invitation to NAMM Media Preview Day, where we were able to connect one-on-one with audio technology journalists the evening before show opening. We enjoyed visits from the likes of Pro Sound News,  Sound On Sound and many more. As the only microphone on display at this small event, we enjoyed lots of traffic and interest!
Best of NAMM
With over 2,200 companies presenting new and exciting gear, we were thrilled that Spatial Mic was chosen as Best Of NAMM 2020 by multiple media outlets!
Production Expert – Best Of NAMM 2020 Day 3
The wonderful team at Production Expert chose Voyage Audio as "Best Of NAMM 2020 Day 3". Check out what they had to say about Spatial Mic:
Reverb.com – Best of NAMM 2020
Voyage Audio and Spatial Mic also got picked up by our favorite gear marketplace (and arguably the best booth of the show), Reverb. They named Spatial Mic to their Best of NAMM 2020 list and had this to say about Voyage Audio:
"It's an ambitious entrance into a scene that is, so far, populated with leading, big-name brands by a young company that wants to lower the barrier to entry to immersive audio without sacrificing the substance." -Reverb.com on Voyage Audio & Spatial Mic
Spatial Mic On Display
As the show went on we spoke to people already incorporating spatial audio into their workflow for audio and video in addition to many that are very interested in the creative possibilities. We were able to showcase our field recording rig for 360 videos, as well as a studio session recorded with Spatial Mic. We enjoyed showing many of you how easy it can be to record immersive audio for video in addition to capturing natural 3D sound in the studio.
Here is quick look at the Voyage Audio booth and listening area: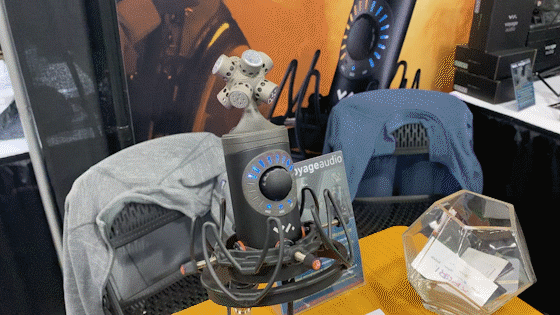 The Journey Forward
The possibilities for immersive sound capture and using these tools to augment current workflows are very exciting and we hope you embark on this journey with us into the future of sound recording. We couldn't do this without your support and feedback. If you haven't already, we encourage you to check out Spatial Mic in more detail. If Spatial Mic is not yet available in your country, please reach-out, let us know where you are located, and we'll do our best to work on availability!
Finally, we enjoyed seeing all the videos and photos posted across social media and enjoyed coverage by many outlets small and large — if you have anything to share, please reach-out or tag @voyageaudio on your favorite social platform!