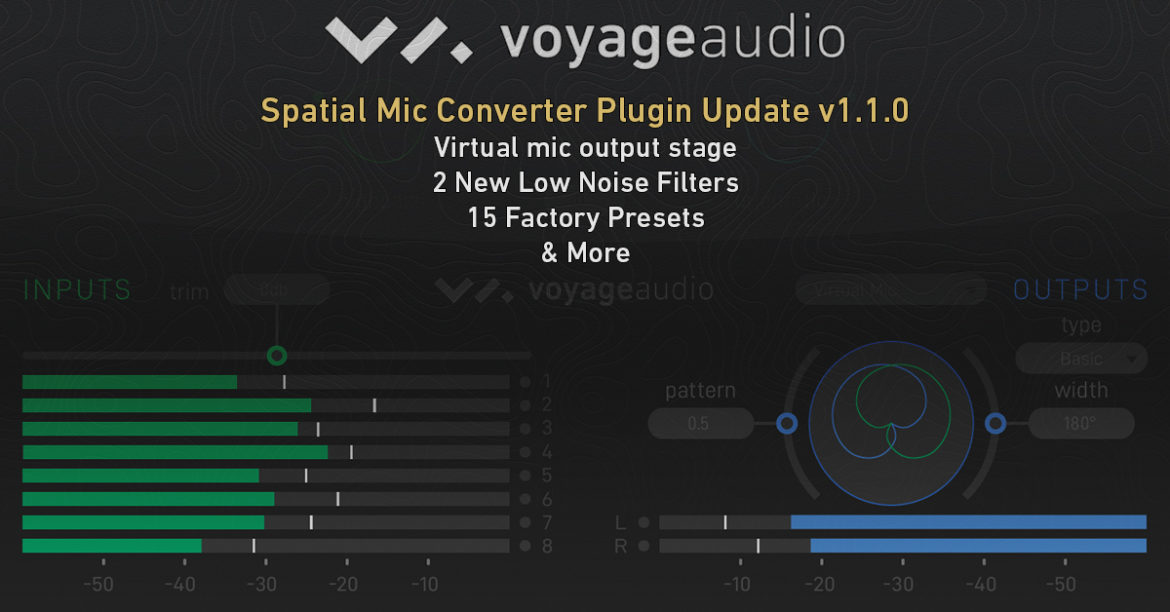 Voyage Audio is proud to announce Spatial Mic Converter v1.1.0 — an update that allows users to decode the output from Spatial Mic's 8 capsule array to stereo virtual microphone polar patterns. Purchase options are at https://voyage.audio/where-to-buy.
The Spatial Mic 360° Recording System relies on the Spatial Mic Converter plugin to transform the raw 8 capsule recordings from Spatial Mic into a format suitable for audio production. The output from the plugin can be configured for spatial audio production (ambix and FuMa at 1st and 2nd order are supported) or mono & stereo with the virtual mic option.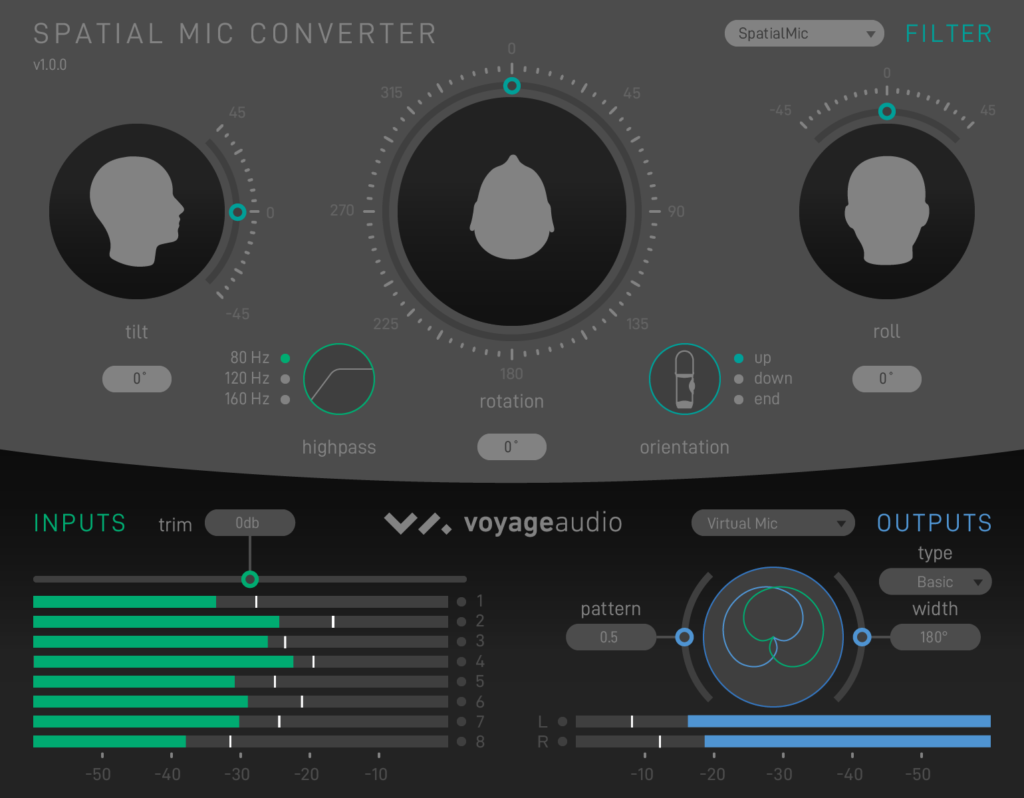 The new virtual mic output stage allows the Spatial Mic 360° recording system to be easily incorporated into traditional stereo mixes without the need for third party software. New presets including Cardioid, Supercardioid, Cardioid XY90/130, Blumlein and Lobar (shotgun) style patterns highlight the capabilities of this output stage. Use the rotation, tilt and roll controls to aim these patterns around in 360°.
What's New in Spatial Mic Converter v1.1.0
Virtual mic output stage with controls for stereo width (mono to 180°), type (Basic, Max Re, In-Phase & Figure 8) and pattern shape

High pass filter with selectable cutoff frequency (80 Hz, 120 Hz, 160 Hz)

Conversion filters have been re-sampled for sample rates at 96kHz and above

Type 1 LN and Type 2 LN conversion filters offer lower noise alternatives for recording quiet sound sources

macOS Catalina support

15 factory presets for quick access to pre-configured plugin parameters

Pro Tools configurations for stereo track output and 7.1 input (plugin can be instantiated directly on 8 channel, 7.1 track in Pro Tools Ultimate)

Plugin and presets are now installed with Spatial Mic software installers for both Windows and Mac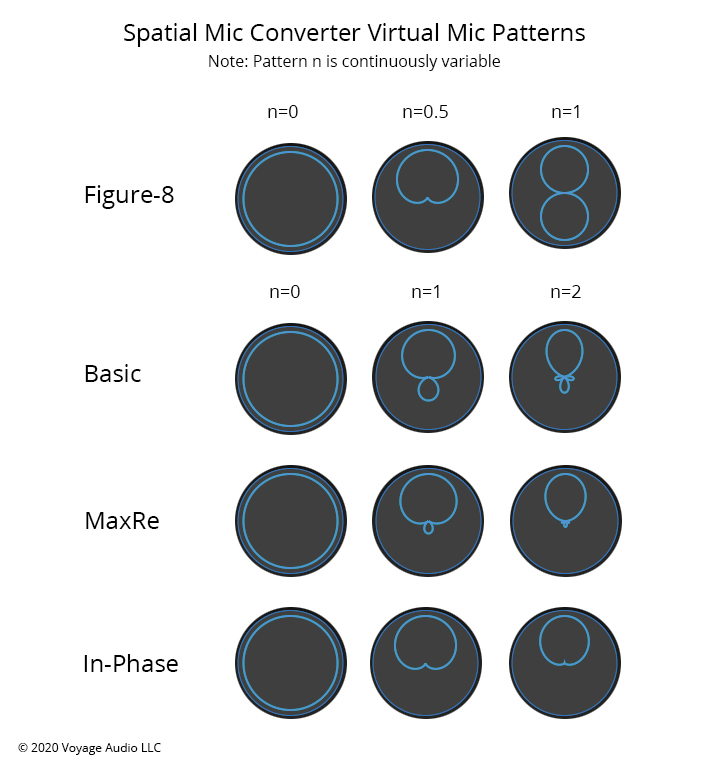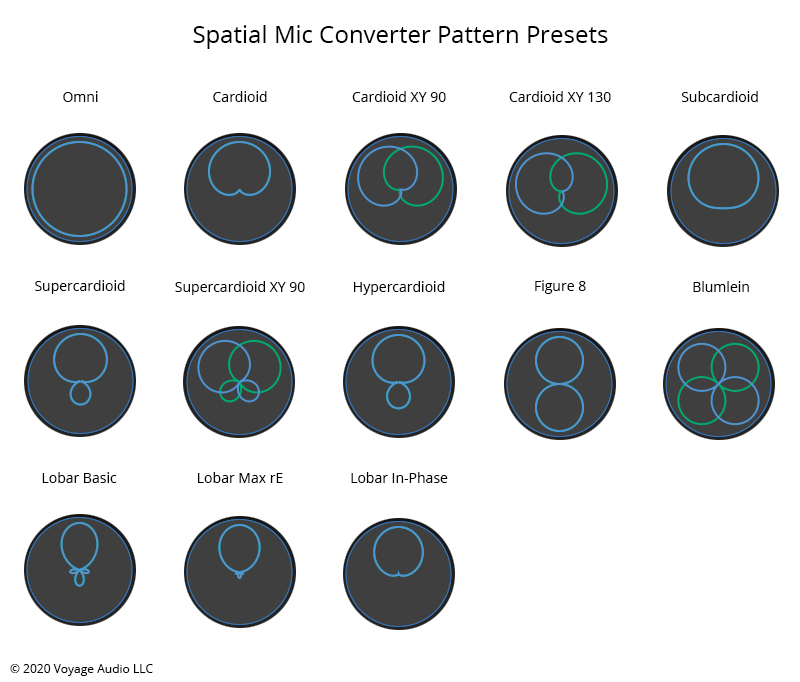 Spatial Mic Converter is a 64-bit plugin available in VST3 and AAX format for macOS and Windows. The plugin requires a host capable of multichannel audio tracks like Reaper, Pro Tools Ultimate or Nuendo. The plugin and demo sessions are available as free downloads on the Voyage Audio website to test system compatibility.